Shoe shopping should be a harmonious occasion. After all, it was scientifically proven to improve our health (source here to show Husband-to-be when he doesn't believe you). However, the pressure to find that really 'special' pair of shoes for your wedding can be overwhelming. Yet, with a little research, it no longer has to become an occasion that makes your savings account want to eat a tub of Cookie Dough.
Below is a fabulous selection of shoes that will really make you feel extraordinary on your big day, and will continue to make you feel like you're walking on air every time you wear them for years to come. The most exciting part? They are for a steal of a price.
1/
A dupe for the Manolo Blahnik 'Hangisi' Jewel Pump that was made famous by Carrie in Sex and the City. These Carvela copies are over 80% cheaper and still very elegant and beautiful in their own right.
2/
For the those of us that simply can't get enough items with flowers on them; these Miss KG by Kurt Geiger pretties are perfect. Flash your flowers intermittently and you're guaranteed to have people in wonder and awe chanting 'Let me see your shoes!'
3/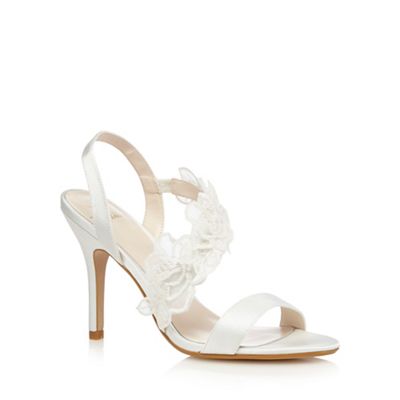 Where there are flower lovers, there will always be lace lovers too. These fabulous Jenny Packham sandals with delicate lace detailing are the ideal summer wedding shoe.
4/
Sophisticated and glamorous, these classic style mock-croc Michael Kors heels ooze unending elegance.
5/
For those who want a very classic look, these patent Ted Baker Neevo courts fit the bill. The signature touch of gold on the pointed toe adds the special wow element.
6/
*Time to sparkle*… Perfect for a NYE wedding or any girl who loves glitter and sparkles are these Buffalo Carrie courts. Just watch out for the Unicorns.
***
All of the beauties above are less than €150*, which might give you a chance to make some savings in your budget. Savings that can be spent on other important things like more prosecco extras on your hen do. It is possible to find something very special without having to fork out hundreds of euro and an attempt to explain to H2B why you need to spend a months rent on a pair of shoes.
Don't forget to follow @aineinwonderland on Instagram and Facebook for your daily fix of Inspiration.
ger x
*Prices under €150 at time of posting.
Photos copyright of their respective designer